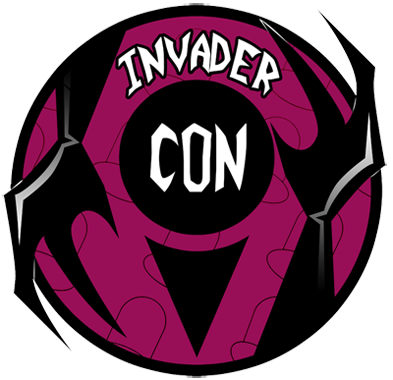 Event
What is InvaderCON?
Started in 2011 by Green Mustard Entertainment, InvaderCON was designed as a "one time only" fan convention to celebrate the 10th anniversary of the popular animated series Invader ZIM.
Popular demand from fans who missed the event in Atlanta prompted the creation of the "encore presentation of the one time convention" in Los Angeles in 2012. Repeated requests for another event resulted in a Kickstarter campaign that funded the 2014 event in Austin as FINAL DOOM.
Guests
Who's Appeared at InvaderCON?
A number of talented members from the cast and crew have made appearances at InvaderCON including:
Aaron Alexovich (2014) | Andy Berman (2011) | Eric Trueheart (2011, 2012 & 2014) | Ian Graham (2012) | Jason Stiff (2011 & 2012) | Jean-Paul Bondy (2011) | Jhonen Vasquez (2012) | Melissa Fahn (2011, 2012 & 2014) | Richard Horvitz (2011, 2012 & 2014) | Rikki Simons (2011, 2012 & 2014) | Rodger Bumpass (2012 & 2014) | Wally Wingert (2014)
InvaderCON's Invader ZIM 20th Anniversary Special
On Tuesday, March 30, 2021, InvaderCON hosted a live Twitch stream celebrating the twentieth anniversary of the series premiere of Invader ZIM which took place on that same date in 2001. It featured Richard Horvitz, Rikki Simons, Rodger Bumpass, Melissa Fahn, Olivia d'Abo, Wally Wingert, Aaron Alexovich, Eric Trueheart and Kevin Manthei. You can watch the video on YouTube.
What's next?
Invader ZIM fandom has endured for over two decades without any sign of slowing down. While there are no other plans for another InvaderCON event in the near future, you never know when we might all get back together again… FOR DOOM.